Une légende Américaine débarque dans les LEGO Stores avec avec l'arrivée du set 10265 de la Ford Mustang LEGO Creator Expert, à compter du 1er mars.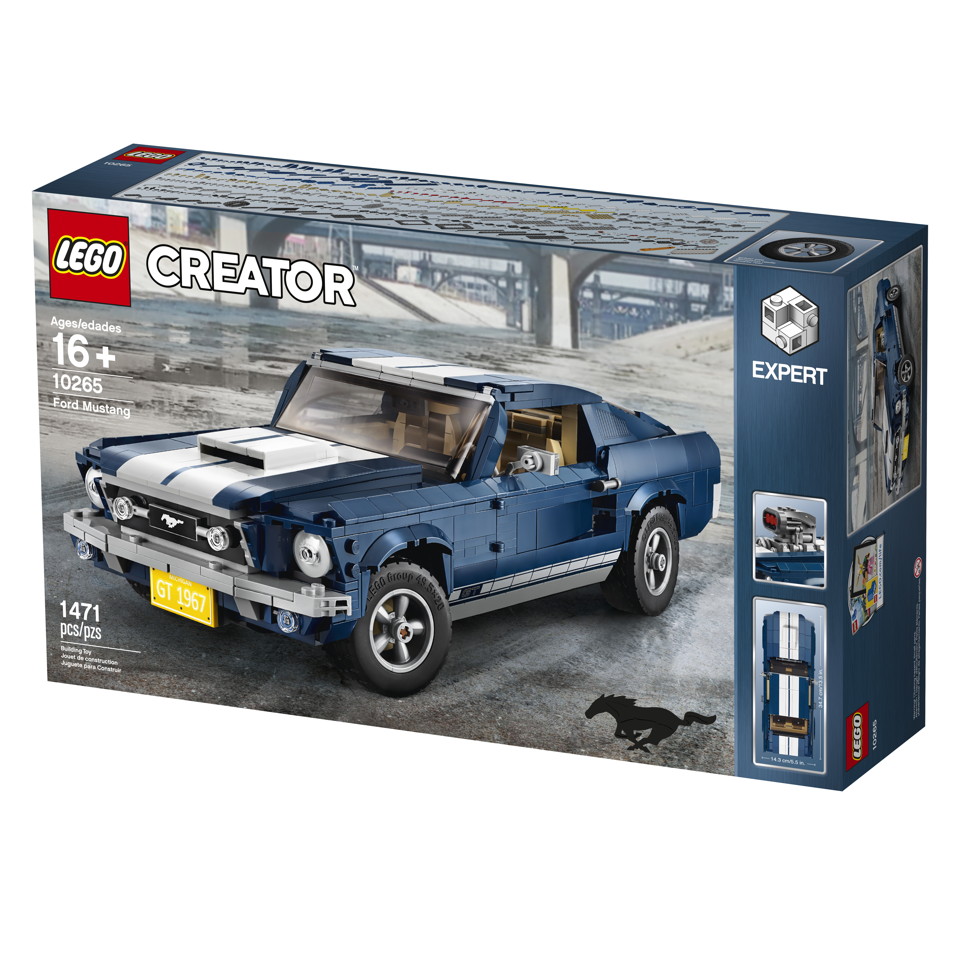 Développé en partenariat avec Ford, ce nouveau modèle Creator Expert: Ford Mustang est basé sur un Fastback de 1967. Composée de 1 470 pièces, cette "muscle car" de couleur bleu foncé est livrée mesure plus de 10 cm de haut, 34 cm de long et 14 cm de large.
Le modèle donnera aux constructeurs en herbe la possibilité de customiser entièrement cette belle américaine grâce à une série modules optionnels, tout en conservant l'esthétique de la Mustang.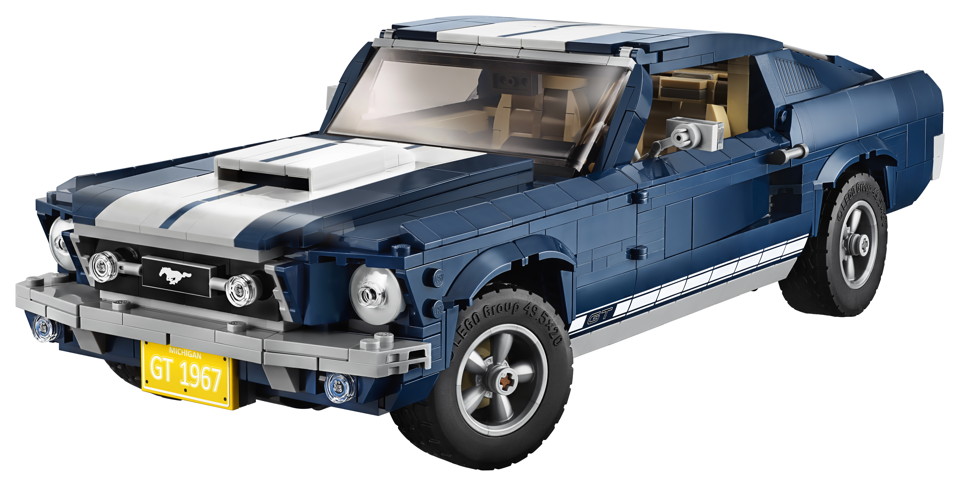 Les options de personnalisation comprennent un compresseur, un spoiler arrière, des tuyaux d'échappement, un spoiler avant et un réservoir de nitro à la Fast and Furious.
Le modèle de réplique authentique permet également aux propriétaires de ranger des objets dans le coffre ou de soulever le capot pour révéler un gros moteur 390 V8 avec bloc, détails et filtre à air.
L'essieu arrière de la voiture peut également être soulevé et les portes peuvent être ouvertes ainsi que le panneau de toit enlevé pour donner accès à l'intérieur de la voiture.
Le nouveau set  LEGO Creator: 10265 Ford Mustang sera disponible les magasins LEGO et sur shop.LEGO.com à partir du 1er mars 2019 pour 139 euros.
A true American hero will soon be screeching into stores with the arrival of the LEGO Creator Expert Ford Mustang from March 1st . 
Developed in partnership with Ford, the new Creator Expert: Ford Mustang model is based on a 1967 Fastback. Made up of 1,470 pieces, the nostalgic muscle car comes complete with working steering, dark-blue bodywork, white racing stripes, bonnet scoop, printed Mustang grille badge, GT emblems, and 5-spoke rims with road-gripping tyres. 
It measures over 3" (10cm) high, 13" (34cm) long and 5" (14cm) wide and will give budding builders the chance to customize their all-American icon to their own specification thanks to a collection of optional add-ons – whilst still retaining its instantly recognisable symbol of the Mustang pony logo.
Customization options include a supercharger, rear ducktail spoiler, beefy exhaust pipes, front chin spoiler and a nitrous oxide tank for an authentic muscle car build experience.
Jamie Berard, Design Lead on LEGO Creator Expert, said: "The Ford Mustang is one of the most iconic, symbolic cars in history – and to bring this fan favourite muscle car to life in brick form, with this level of customisation, has been exhilarating. We can't wait to see our LEGO and Ford Mustang fans' own creations when they get their hands on this new set. "
Jim Owens, Mustang Marketing Manager, said: "There are few cars on the road that are as instantly recognizable as the Ford Mustang, and it's exciting to see the iconic car's combination of design and heritage come through in this LEGO set."
The authentic replica model also allows owners to store items in the trunk or lift the hood to reveal a detailed big block 390 V8 engine with battery, hoses and air filter detailing.
The rear axle of the car can be lifted too for an extra-mean look, the doors can be opened and the roof panel removed to give access to the detailed interior with classic seats, radio, working steering and a mid-console gearshift. 
A printed mustang grille badge, GT emblems and a selection of license plates add the final touches to this extraordinary LEGO Creator Expert model!
The LEGO Creator Expert: Ford Mustang is available directly from LEGO stores and shop.LEGO.com/fordmustang from 1st March 2019