Aujourd'hui, Star Wars Celebration Chicago ouvre ses portes et c'est l'occasion pour LEGO de dévoiler son nouveau set spécial disponible à l'occasion du May the 4th 2019.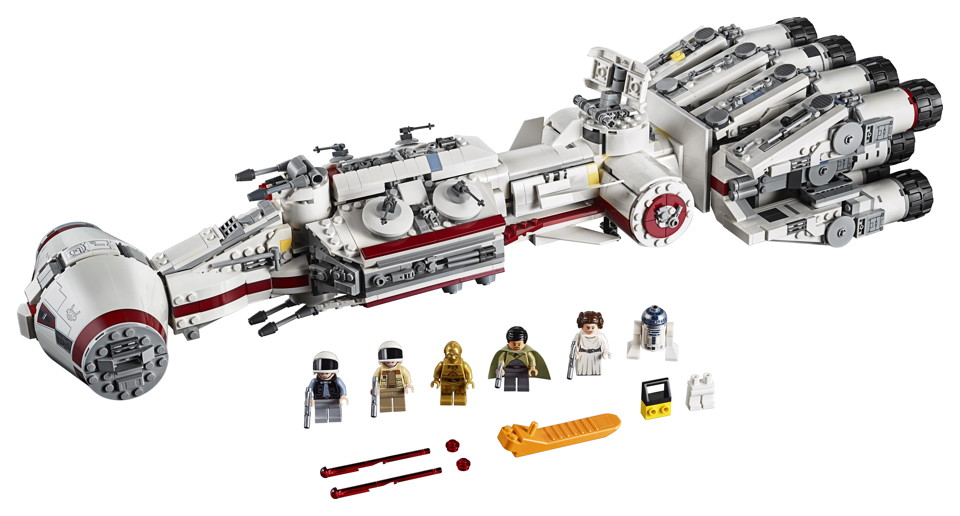 Le célèbre Tantive IV, vaisseau diplomatique de la Princesse Leia, fait son grand retour chez LEGO, avec le set 75244 qui propose un vaisseau remis au goût du jour et qui permettra aux petits et grands de recréer la célèbre scène d'ouverture du film A New Hope.
Le set LEGO 75244 Tantive IV compte pas moins de 1750 pièces et mesurera prêt de 62cm de long. Comme vous pouvez le voir, la boîte inclut 6 mini-figs parmi lesquels Bail Organa (de Rogue One), Princesse Leia, une nouvelle version du Capitaine Antilles, C-3PO, un Rebel Fleet Trooper, et bien sur R2-D2.
Le set sera disponible dans les LEGO Stores et sur le Shop@Home dès le 3 mai prochain pour 199 euros.
75244 Tantive IV™
Ages 12+. 1768 pieces
US $199.99 – CA $269.99 – DE €199.99 – UK £179.99 – FR €219.99 – DK 1799DKK – AUD $329.99
Own an iconic Rebel blockade runner—Tantive IV!
Build, play and display a legendary Star Wars™ starship! This LEGO® Star Wars 75244 interpretation of Tantive IV, seen fleeing from an Imperial Star Destroyer in the opening moments of Star Wars: A New Hope, faithfully recreates all of the Rebel cruiser's signature details, including an elongated hull, detachable escape pods, elevating gun turrets, cargo hold and 11 massive engines at the back. Remove the hull plating of this fantastic LEGO Star Wars vehicle to reveal a detailed 2-minifigure cockpit, conference area with table, weapon rack and a control console with 2 seats. The radar dish also doubles as a convenient carry handle, which makes it perfect for flying around the room. When the mission is over, this amazing kids' buildable toy also makes a great centerpiece for any LEGO Star Wars collection. The set also includes 5 minifigures and an R2-D2 droid LEGO figure.
Includes 5 LEGO® Star Wars™ minifigures: Bail Organa, Princess Leia, Captain Antilles, C-3PO and a Rebel Fleet Trooper, plus an R2-D2 droid LEGO figure.
Tantive IV LEGO® Star Wars™ construction toy features a radar that doubles as a carry handle, 2 detachable escape pods with space for a minifigure inside, opening cargo hold and removable cargo box, opening 2-minifigure cockpit, rotating and elevating stud-shooting turrets on top and 2 spring-loaded shooters underneath. The top hull detaches to reveal a detailed interior including a conference table, weapon rack and a control console with 2 seats for the minifigures.
Weapons include a blaster pistol and 3 blasters.
Also includes a pair of electrobinoculars.
Captain Antilles minifigure is an updated version from 2009, while Princess Leia's skirt and Bail Organa are new for April 2019.
This highly detailed building toy construction set includes over 1,750 pieces.
Recreate amazing moments from the opening scene of Star Wars: A New Hope or play out your own exciting adventures!
LEGO® Star Wars™ starship measures over 5" (14cm) high, 24" (62cm) long and 7" (19cm) wide.
Available directly from LEGO Stores & shop.LEGO.com from
 3rd May, 2019