Lawrence Noble est de retour et cette fois il se met à Indiana Jones
18 exemplaires en exclu pour le star wars shop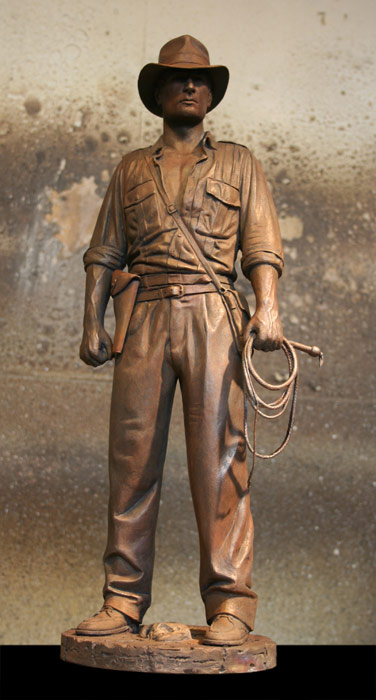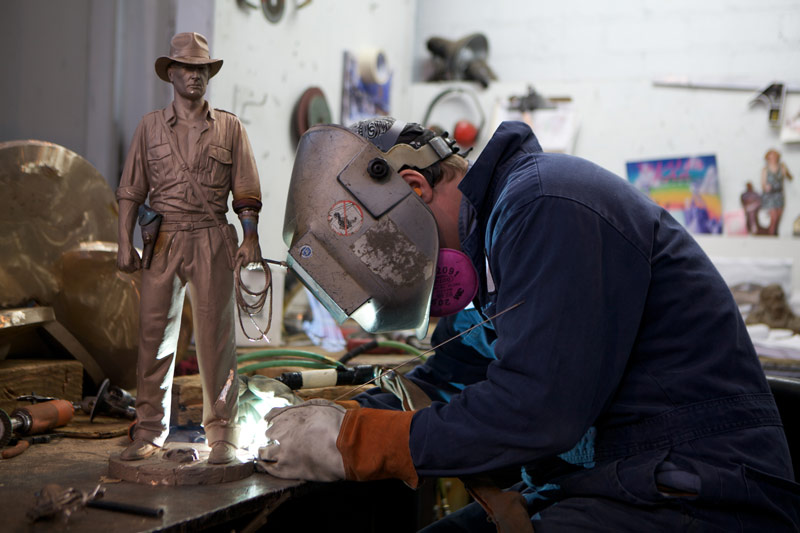 The man with the hat is back, and this time he's coming in bronze thanks to Star Wars sculptor-extraordinaire Lawrence Noble.

Noble, who has already immortalized the likes of Yoda, Vader, Obi-Wan, Luke, and Darth Maul in bronze, moves into Indy territory with a soon-to-be-released 24-inch full-figure sculpture of the famous adventurer. We caught up with Noble in Berkeley, California, where he was overseeing the patina put on his latest creation borne from Lucasfilm's legendary cast of characters.

"pffffffuiiiiiiiiiiiiiiiiiiit !" you describe the pose you chose for Indiana Jones in your sculpture?

I chose this pose because it was THE iconic pose of Indiana Jones, as seen on the one-sheet from Indiana Jones and the Kingdom of the Crystal Skull as well as used in the support material from Last Crusade. It just seemed to me to "say" the character. My overall conceptual intent was to depict a quintessential Indy, ready to take on whatever came his way and I didn't want an "action pose" because to me, it's more about what the character is "thinking", not what he is "doing". Michelangelo's "David" would be an example of that... he chose to depict David at the moment when he decided to fight Goliath. Indiana Jones seems to find himself in that position frequently!

Tell us a little bit about the modeling for this figure.

The modeling had to depict that "rumpled look" of Indiana, straight from his latest adventure. Only that particular drapery, in my opinion, would really portray the character. That meant following my reference very carefully. Thanks to Tina Mills at Lucasfilm who provided exceptional reference!

The patina on an Indiana Jones piece seems like it would be especially important, given the character's historical feel --

The patina is so important because it helps to establish both place and character. My artistic directive was a quote from Indiana Jones in Raiders of the Lost Ark ... "It's not the years, it's the mileage". That quote just kept rattling around in my head. Aiya, the Patineur at [Berkeley's] Artworks Foundry, worked closely with me to establish a patina that felt "used"... like it had been through many adventures. I knew I didn't want something too new-looking. It's not a patina that I've used before and so it felt unique to the character... it just felt right.
http://www.starwars.com/vault/collectin ... 91207.html